Thanks to QoS (Quality Of Service) you can make sure that a specific program or computer gets priority above other programs. By using this feature, you are certain that you will not get 'lag' in games or hitches during video playback, in case one of the computers starts to download.
Launch your internet web browser on your computer and type http://192.168.8.1 in your browsers address bar.
Please enter the User Name: adminand Password: admin and then click on "OK" button.
From the left-hand menu, click on "Firewall" – "QoS"

You will see the following screen: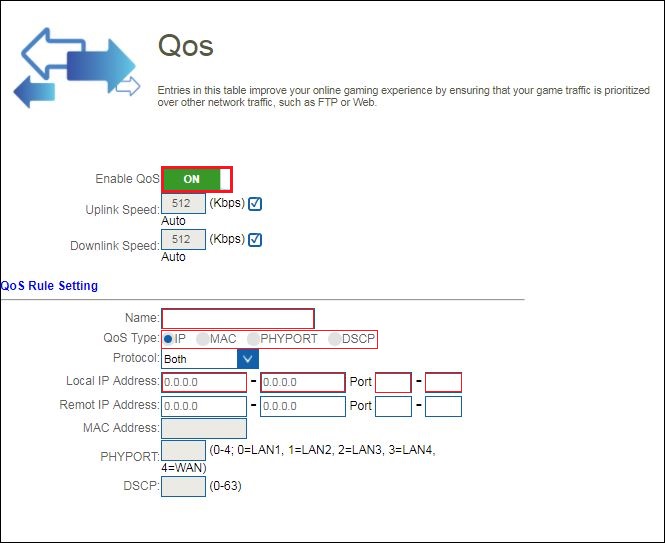 Enable "QoS"
Enter QoS Rule Name, for example PS4.
You have the option to make a QoS rule by "IP address", "Mac address", "PhysicalLAN port" and "DSCP".
Once you have made the selection, select a QoS "Mode".

You can select "Guaranteedminimum bandwidth" so you are sure that your QOS rule always have a minimum bandwidth. Or you can select "Restricted maximum bandwidth" which means that this QoS will not exceed the maximum bandwidth which will be setup for this QoS rule.
Once you have selected the mode, please enter the Up and Downlink Bandwidth speed. This speed is listed in Kbps.
For example: 10Mbps = 10000Kbps
Click "Save" to add the QOS rule.