1. First make sure the mode selector switch is set to "AP" position for "AP" mode
2. Connect the EM4597 to a wall outlet (preferably close to the modem/router).
3. Wait for the signal indicator to light up all three leds. This will take approximately 1 minute.
4. Connect to the EM4597 via Wi-Fi SSID: Eminent_repeater or Eminent_repeater(5G), or use the Ethernet cable to connect directly from your PC LAN port to the EM4597 "LAN" port.
5. Open your internet browser and type https://192.168.10.1 in your internet browser and then hit Enter.
6. The login screen will appear. Enter the Username: "admin" and Password: "admin", then click "Login" to login.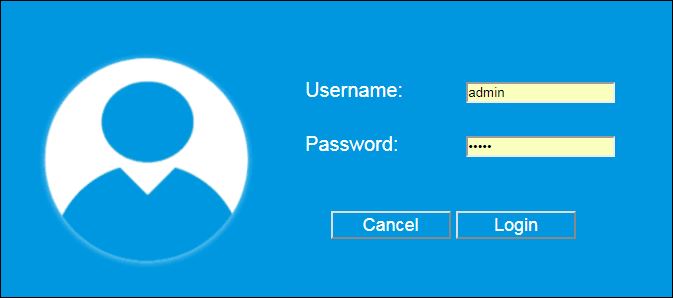 7. Select "AP Wizard" from the Menu.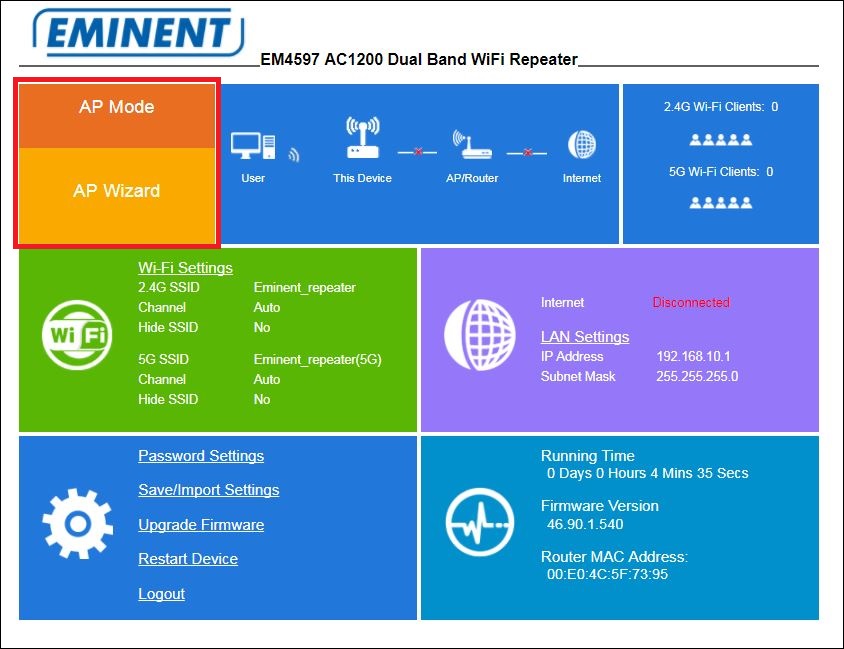 8. The following screen will appear:
9. You will notice that the repeater will automatically fill in the default SSID name from repeater in to SSID field. It is not necessarily needed but we suggest to rename the SSID name to: SSID name + AP so you will always know that you are connected as Access Point.
10. You also have the option to secure the Wi-Fi network by adding an encryption key. Click in the "Encrypted" field to change the security. Now enter an encryption key in the "Wi-Fi Key" field.
11. Click "Save" to confirm. The repeater will reboot and make the changes. This will take approximately 1 minute.
12. Remove the repeater from the power socket or switch off the repeater by switching the "On/Off" button to "Off".
13. Install your Ethernet cable from modem/router or router into the "LAN/WAN" port of the repeater.
14. Connect the EM4597 back to the wall outlet and make sure the "On/Off" button is switched to "ON"
15. Wait until the "signal indicator" lights up the three leds. This will take approximately 1 minute.
16. You can now make wireless connection with new made SSID as Access Point. If you would like to make connection with a PC, you have to repeat step 12 to 15 only now by plugging in a Ethernet cable into "LAN" port from your Access point to the LAN port from your PC.