De the mobile network indicator gives the de status of the mobile network signal. Below an overview what the flashing means.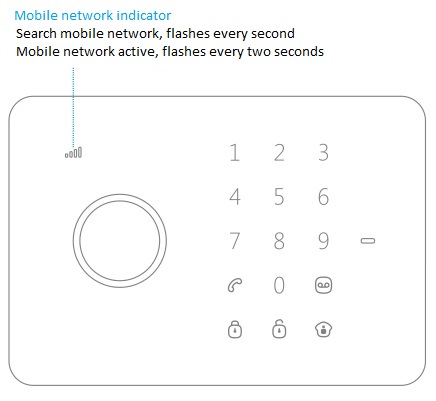 When the mobile network signal indicator flashes each second, the system has no connection to the mobile network.
Check if there is no PIN code on the SIM card.
Place the SIM card into a mobile phone and check if there is a PIN code required. Is this the case, follow the steps below to remove the PIN code. (To find this setting can be different on your mobile phone, please refer to your phone's manual)
Apple (iOS); Go to settings => phone => sim-pincode. Switch off the sim-pincode here
Android Goto Apps => settings => more => safety => sim card setting. Switch off sim-pincode here.
Turn off the alarm system (on/off switch on the back of the panel) and remove the batteries. Then place back the batteries and turn on the alarm system again.
Wait up to 2 minutes to let the alarm system connect again to the mobile network.
If there is still no connection with the mobile network, try the system at another location. (probably the mobile signal is not strong enough at the current location)